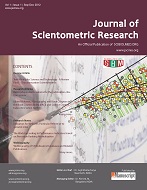 Journal of Scientometric Research (J. Scientometric Res.) is an internationally targeted official publication of Phcog.Net. It publishes peer-reviewed articles online in an open-access format, after a careful selection through a double-blind peer-review process. The journal encourages both empirical and the theoretical contributions that advance scientometric research (in its widest interpretation) and also reaches out to scholars of science and technology studies (STS), sociology, economics and other related fields that use scientometric data as the 'object of investigation' or apply scientometric analysis in innovation and STS studies.
ISSN : [ISSN:Print -2321-6654, Online - 2320-0057] ; Frequency : Rapid at a time publication - Triannual (3 issues/year). Special issues are also published on contemporary areas from time-to-time.
The Journal will be Gold Open Access journal from January 1, 2024.
Editor-in-Chief: Dr. Sujit Bhattacharya, Ph.D | View Editorial Board
Abstracting and Indexing Information
Scopus, Emerging Source Citation Index (ESCI), Web of Science, Dimensions.ai, Crossref.org, EBSCO Databases, OpenJGate, ProQuest, Exlibris-Primo Content Index, CORE.ac.uk, CNKI (China National Knowledge Infrastructure), Google Scholar, HINARI, JournalGuide.com, DBLP, UGC-CARE List (India), and TdNet.
Journal Impact : 2 year impact factor - 0.8 (As per Journal Citation Reports 2023)
CiteScore (2022) - 1.7
Q2 - Social Sciences > Library and Information Sciences
Q3 - Computer Science > Information Systems
Q3 - Computer Science > Computer Science Applications
Sources: Journal Citation Reports from Clarivate, 2023, Scopus®, 2020 release and Google Scholar.
Sunny Dhiman1, Rajbeer Singh1*, Vairaj Arjune1, Raghvendra Singh Yadav1, Mritunjay Singh Yadav2 and Albert Bansala2…
Murni Nur Islamiah Kassim1, Mohamad N. Azra12*, Fathurrahman Lananan3, Mohd Iqbal Mohd Noor45, Min Pau…
Emmanuel Baffour Gyau1*, Kulena Sakuwuda2 and Ernest Asimeng3 Author informationPDFCitations 1School of Finance and Economics,…
Chandan Kumar1*, Debidutta Pattnaik2, Valentina Emilia Balas3 and Raghu Raman4 Author informationPDFCitations 1Department of Computer…
Hanbin Mao1* and Jixin Chen2* Author informationPDFCitations 1Department of Chemistry and Biochemistry, Advanced Materials and…
Author informationPDFCitations Corresponding author. Correspondence: Pablo Dorta-González Universidad de Las Palmas de Gran Canaria, TiDES…